trad
Federal Prosecutors Called Into Fake GOP Electors Probe
An investigation into Republicans who tried to falsely certify that ex-President Donald Trump won Michigan's electoral votes in 2020 has been submitted to federal prosecutors, the state's attorney general has said.
Dana Nessel told MSNBC that forgery charges, as part of a failed Republican strategy to overturn President Joe Biden's victory in the state, were being considered in the case which has been referred to the U.S. attorney's office for the Western District of Michigan.
"We think this is a matter that is best investigated and potentially prosecuted by the Feds," Nessel told The Rachel Maddow Show on Thursday.
Each political party has its own group of electors, but only those representing the candidate who wins the popular vote can participate in the Electoral College.
On December 14, 2020, Michigan's 16 Electoral College votes were officially recorde for Biden after he won the state by 154,000 votes, or 3 percentage points.
But the same day, Republican nominees claimed Trump had won, signing unofficial documents at the Michigan Republican Party headquarters in Lansing, although they falsely said the fake certificates had been signed in the Michigan Capitol.
Nessel said for the last year her team had been scrutinizing the documents that the GOP officials sent to the National Archives.
"I will say under state law, I think clearly you have forgery of a public record, which is a 14-year offence and election law forgery, which is a five year offense," she told MSNBC.
Nessel told MSNBC the plan "seems to be a coordinated effort between the Republican parties in various different states."
"Obviously this is part of a much bigger conspiracy," she said, "our hope is" that the federal authorities, the Department of Justice and U.S. Attorney General Merrick Garland will "make an evaluation as to what charges these individuals might face."
Maddow this week reported how Trump allies in Georgia, Nevada, Wisconsin and Arizona had sent the government fake second sets of Electoral College documents in 2020, falsely declaring the former president to have taken the states' electoral college votes.
In March 2020, government watchdog group American Oversight, reported on the documents which have been obtained by the January 6 Committee investigating the U.S. Capitol insurrection.
The Detroit News reported that Nessel's revelation is likely to shake up the state's politics as the 16 Republicans in question include high-ranking members of the state GOP.
Ingham County Clerk Barb Byrum, a Democrat, wrote in a blog post that the GOP nominees should face punishment before the January 6 Committee completes its work for "attempting to subvert democracy."
Newsweek has contacted the Michigan Republican Party for comment.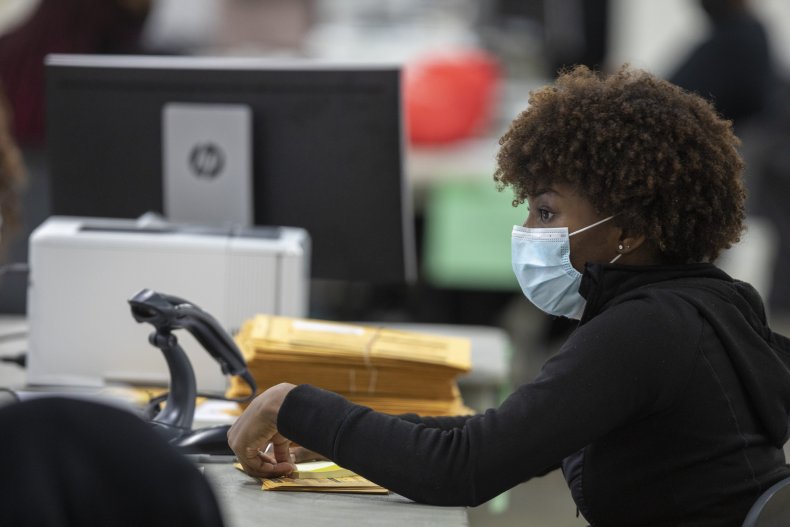 Cet article est traduit automatiquement. N'hésitez pas à nous signaler s'il y a des erreurs.